I am sitting on the porch of the cozy little cabin Knausen and recall the last days.
After some initial rain on the first day in Rondane, the weather became sunny again and temperatures rose. The trails in Rondane were comparably easy to go. They led through broad valleys and offered nice views on the surrounding mountains. Rondane is the oldest national park of Norway (founded in 1962) and also here wild reindeers seem to play an important role. I did not see any this time. No wonder, given the amount of people who are on the way. It is interesting to see that there is some "hotspots" like Gjende in Jotunheimen and central Rondane, where there are a lot of people while just some kilometres away one does not meet a soul.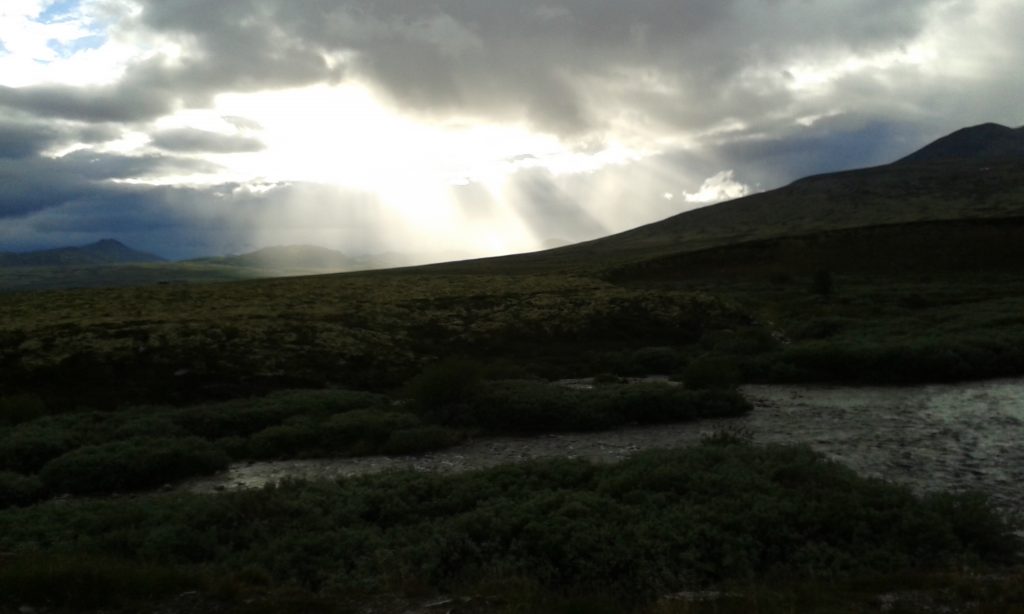 From Rondane I went into Alvdal Vestfjell. With the temperatures rising, new enemies are on the agenda – insects, i.e. mosquitos, horse flies and flies. At some places they can really be a pain in the ass, because of their vast number and it is always nice to come above the treeline again were the wind prevents them from following.
In Alvdal I bought new food provisions. Entering a supermarket after having been in the wild for several days is an interesting experience. One ends up buying much more things then intentended. Ohh, fresh fruits and vegetables, ahh fresh bread, ohh this looks nice – sensory overload 🙂
From Alvdal I followed the street through an agriculture dominated valley to the next town Tynset. It turned out to be a really long walk and I arrived exhausted at Tynset Camping. While I was setting up my tent, a man approached me, asking what I was up to. While I was telling him about my plans, a second man joined us and asked me if I had already had dinner. When I denied that he invited me over in his caravan for sausages, potato salad, beer and strawberries with cream. So I spent the evening with the two couples Kåre and Kari and Thor and Anne Mari in their Caravan. What a fantastic end of an exhausting day 🙂 Tusen takk!
Now I am on my way to the lake Femunden and to the Swedish border. I hope everyone is well! Take care and  vi snakkes 🙂