No, do not be afraid – I am not doing drugs now 😉 But there was actually still a lot of snow in Setesdals- and Ryfylkeheiane. Once I came above some 1100 m a big part of the landscape (including the lakes) was still covered by a thick layer of snow. In this regard this stage was like a walk through the seasons: ascending from lovely valleys to rough, snowy hills. It felt always like a colour explosion when I descended into the next valley.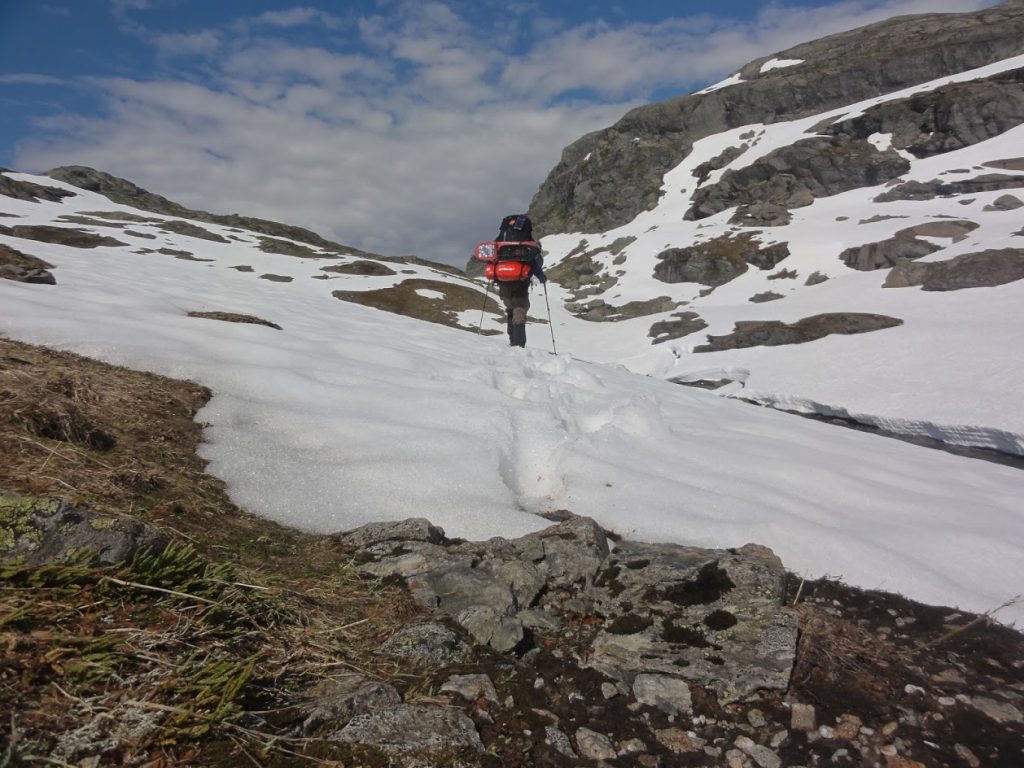 On this stage I also reached the first cabins of the Norwegian Trekking Association (DNT). For those of you who are not familiar with the DNT or its cabins, just a short overview: The DNT runs more than 500 cabins all over Norway. Some of them are staffed, some are self-serviced (i.e. with a food storage) and some are unstaffed. They are really cosy places were hikers can spend the night (or several days) and meet other people.
In the second cabin on my way, Øyuvsbu, I met Berghild, Borghild and Guri. They were doing dugnad (voluntary work) there and giving the cabin a spring cleaning. Two of them had cycled Norge på langs some years ago in just 4 weeks in June. They were really interested in my trip and we had a nice evening together. They also told me about a girl who had been there the night before and was also hiking Norge på langs. So now I got word of tree people who are on the same mission as I am, but the first personal encounter has yet to occur 🙂 The girl had decided to follow the road again from Øyuvsbu so that I could not catch up with her. The next morning, before my departure, the three women offered me egg and bread for breakfast and also gave me  Kvikk Lunsj for my way. Furthermore, I did not have to take care of the dishes or the cleaning of the cabin – they were taking care of everything. Better than any hotel 😉 Tusen takk Berghild, Borghild and Guri!
Some of the cabins are equipped with a radio and on one night I was listening to a broadcast from the Semper Opera in Dresden. Strange feeling to sit in the Norwegian wilderness and to listen to a concert from home 🙂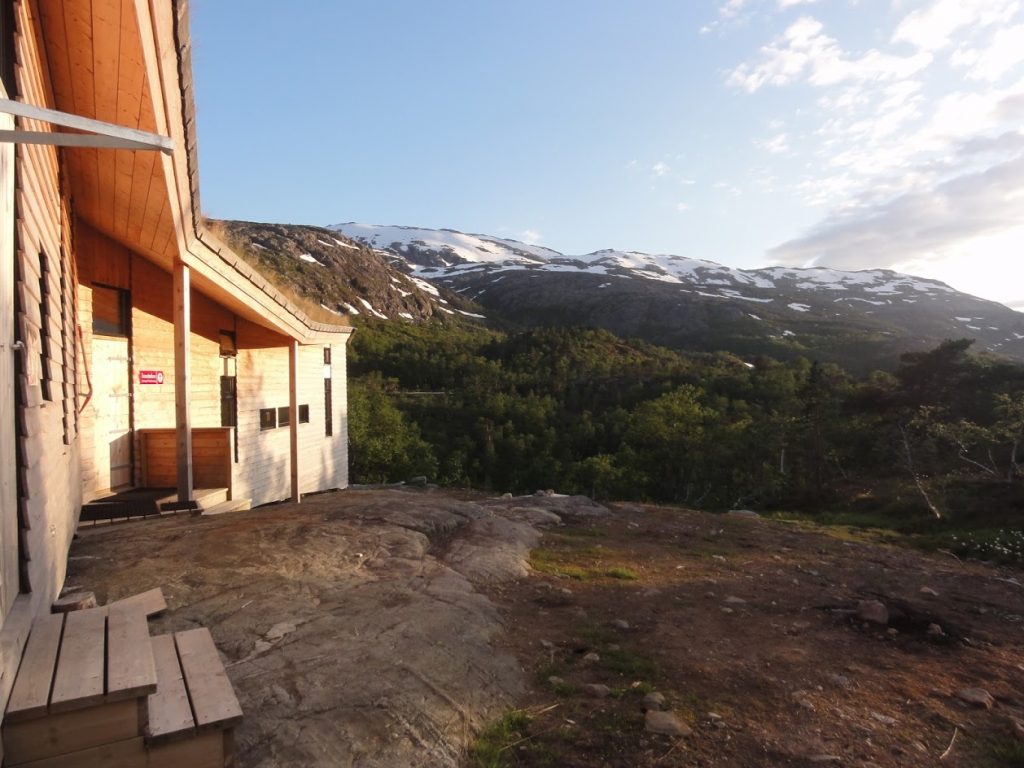 On my way over Heiane I also passed by Blåsjø: A huge lake with the biggest reservoir dam I have seen so far. The view from the opposite mountains cannot be described with another word than breathtaking!
Another thrilling part on this stage was to find out if the summer bridges had already been planted. Some of them luckily had while others had not. Because of that I had a deep wading passage close to the cabin Svartenut. At the cabin Bossbu the bridge had been destroyed during the winter. When I arrived there, I tried to wade the river. Two attempts failed, because it was just to deep and the stream to strong. While I was busy trying, the sun disappeared behind the mountains and it suddenly got cold. So what to do? I could either have walked around the adjacent lake or tented where I was. I decided for option B and, ironically, tented some 300 m away from the cabin. Luckily I found a wading passage the next day so that I skipped walking around the lake 🙂
On this stage the GPS proved really useful, because most of the way marks were still covered by snow and it would have been hard to find the way otherwise.
I also have to mention that I was still really lucky with the weather. Not a single day of rain, but mostly sun. The first raining day was my resting day today – what a timing!
Unfortunately, I could not take photos with my mobile, because I ran out of battery. But I will try to upload the pics from my camera asap.
Tomorrow Hardangervidda is waiting for me 🙂 I hope everyone is doing well! Best, Jakob