After my previous resting day in Røyrvik I headed for Børgefjell nationalpark. In order to get there, I had to take a ferry over the lake Store Namsvatnet. This ferry was considerably smaller than the MS Fæmund II: a little motorboat with five passenger seats, steered by captain Kurt, a relaxed dude with Yamaha-racing cap, big sunglasses and a ponytail.Needless to say that the boatride was great fun 🙂
In Børgefjell I experienced a great landscape in mainly good wheather: valleys with wet meadows, birch forest and rolling rivers, lovely mountain lakes – one even with sandy beaches and snow covered mountains rising in the west of the nationalpark.
After having crossed Børgefjell, I enterred the province Nordland and thus Northern Norway. Here I have been following Nordlandsruta, a trail that leads through the whole province, from Harvasstua in the south to Bjørnsfjell, close to Narvik, in the north. This has been my favourite part of the tour so far: An impressive and extremely varied landscape, composed of majestic mountains, partly covered by glaciers, strung-out lakes and green valleys.
In this part I took the first self-service ferry on the tour across the lake Daningen: A boat that was moved by cable haulage. Such a boat ride is fun, but one should think twice before letting go of the rope to take photos – it might prove difficult to reach for the rope again 😉
On the last part before Umbukta Fjellstue, where I am now, I passed by Northern Norways roof – the mountain Oksskolten, with its 1916 m the highest in Northern Norway. Furthermore I could admire all its glacier branches on my way.
Also on this stage, I met really welcoming and hospitable people. On the campsite in Grannes I was invited for dinner by two Swedish couples, including home-made blueberry-cake with vanilla sauce and cream – heavenly. In Tverrelvnes I could try the legendary NPL-boller (buns) which every NPLer gets offered here by the host Gunder Garsmark. Last but not least, in Umbukta Fjellstue, every NPLer can spend one night for free and I have taken up quarters in the cosy little Stabburet.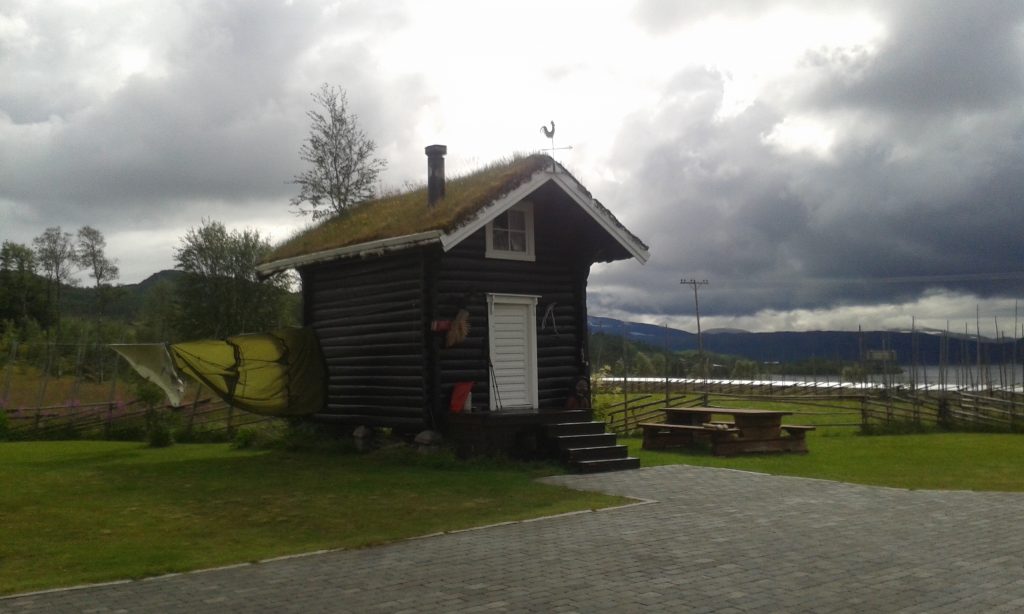 The owner of Umbukta Fjellstue, Thor Inge, has gone Norge på langs twice himself, once in summer and once in winter. This summer, he cycled NPL in just 12 days (!!!).
Here in Umbukta I also had the chance to refresh my food provisions. With the bike that Thor Inge had lent me, I cycled the 3 km to the Swedish border and did grocery shopping in "matbussen" – a bus converted to a rolling supermarket, interesting concept 🙂